Ah, the greatest weekend on the American sporting calendar is upon us. Not only that, but – for my money – the best eight teams in the NFL are left standing. Some people prefer the flukiness of March Madness or the juxtaposition of people skating on a sheet of ice in June, but for me nothing beats the Divisional round of the NFL playoffs, mostly because it all takes place during a weekend and everyone can get hammered drunk.
Last week's Wild Card round was dominated by all four favorites, which is quite rare. Vegas hasn't had a good year with their sports books, and this is the reason why. We went three for four with our picks last week, with Marvin Lewis the Bengals being the only team to contribute to the aggressive attack on my liver.
Ravens at Broncos (Current Line : Broncos -10)
The Broncos are going to absolutely pound the fuck out of the Ravens. This is going to be like Samuel L. Jackson facing Darren Rovell in a cool contest. Did everyone watch Ray Lewis play last week? That arm brace looks like a murder weapon, there's no way security at the nursing home lets that thing through the front door.
I was watching a replay of Super Bowl XXXII the other day, and it struck me how much former Broncos receiver Ed McCaffrey looks like Jordy Nelson. Does anyone else think that? I could be wrong, though, because they all look the same to me.
Broncos -10
Packers at 49ers (Current Line : 49ers -3)
My trip to Lambeau for Packers / Vikings was interesting for two reasons. 1 – The two absolutely demolished Vikings fans sitting behind me. 2 – This fucking guy: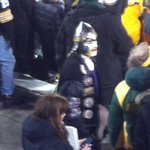 This game is the hardest to predict for me. I wouldn't be surprised if either team won by three touchdowns.
This is also the Bastion Booger vs. Ravishing Rick Rude of coaching matchups. I'd really enjoy seeing Mike McCarthy body slam Jim Harbaugh at the conclusion of this one.
Packers +3
Seahawks at Falcons (Current Line : Falcons -2.5)
As my esteemed colleague Polk Panther can tell you, the Seahawks have racked up a few frequent-flyer-on-private-plane-oh-my-god-that-kind-of-thing-must-be-tough-miles this year. After traveling from Seattle to D.C., they now have to quickly bang their wives, call their Atlanta road beef, and travel across the country for a second consecutive week. I honestly believe, deep in my asshole, this is Atlanta's year… to win a playoff game.
Falcons -2.5
Texans at Patriots (Current Line : Patriots -9.5)
Sorry Texans fans, it's time to get led out to pasture. I'm not talking about the team, either. I'm referring to the people, you lumbering herd of fat fucks.
Patriots -9.5
Author's note: If the Broncos somehow lose to the Ravens on Saturday, this feature will not return the following week, because the author will be deceased via self-inflicted gunshot wound. Have a wonderful day.